Hybrid Vehicles
We are excited about Hybrid vehicles and eager to help our customers learn more about them. Customize your vehicle your way with your hands on the wheel, to parallel parking with your hands off it. Seems the only thing Toyota hybrids can't help you do is waste fuel. On this page, we've put together some basic information to help you learn more about how our hybrid vehicles work -- and whether a hybrid vehicle might be right for you.
2014 Toyota Prius
A larger Prius
We would like to share with you what reviewers who have seen and driven the car have to say:
The Auto Channel explains that the Prius V has more cargo space than most SUVs:
"The 60/40 split rear seat reclines 45-degrees, slides and folds flat. Behind that second seat we have a substantial 34.3 cubic feet of space to store our stuff, more than most small crossovers and SUVs and more than any hybrid. More storage is under the rear floor. And, if we slide the rear seat to its most forward position with seat backs up we have 40.2 cubic-feet of space. Fold the rear seatbacks down and we get 67.3 cubic-feet. Total passenger volume is an impressive 97.2 cubic-feet."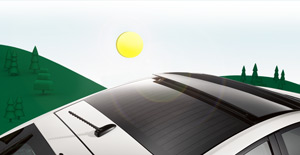 Auto Spectator Describes the New Cutting Edge Panoramic Sunroof:
"Also available, and a Toyota-first, is a resin Panoramic View Moonroof with power retractable sun shades that provides an open atmosphere in the cabin with a 40-percent reduction in weight as compared to conventional glass roofs of the same size, and excellent heat insulation performance. This improved thermal resistance means the engine needs to run less to preserve comfortable ambient temperatures, which in turn enhances fuel efficiency. The moonroof has an electrically operated shade system with a jam protection function."
2014 Prius C
Prius C
EPA estimated 53 MPG City
Meet the Newest Member of the Prius Family
Prius c offers the highest city mpg rating of ANY vehicle without a plug!
Incredible Gas Mileage - EPA rated 53 mpg city/46 mpg highway
Starting MSRP below $20,000 - affordable hybrid!
Standard Bluetooth, USB port with iPod connectivity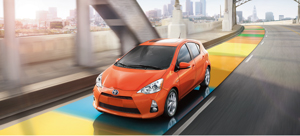 2014 Prius Plug-in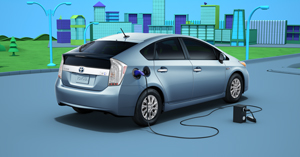 Prius Plug-in
The hybrid you love, now with a plug
EPA-estimated 95 mpge
In hybrid mode a Prius Plug-in operates like a Prius and earns a remarkable EPA-estimated combined mileage rating of 50 mpg. Should you run out of electric charge, Prius Plug-in will seamlessly shift back into hybrid mode.
2014 Highlander Hybrid
Highlander Hybrid - Great 4WD Performance Without Any Sacrifices
EPA Estimated 28 MPG City/28 MPG Highway
Estimated city rating of 28 miles per gallon means fewer trips to the gas station. Rated as a Super Ultra Low Emissions Vehicle. Third row seating, 4 wheel drive and plenty of room without being a "gas guzzler"
Offers Same Level of Performance as the non-Hybrid V6 Highlander
The Highlander Hybrid is fun to drive - 280 net horsepower between gas engine and Synergy Drive. The Highlander Hybrid isn't just powerful, its also quiet. The Highlander Hybrid comes standard as a 4-wheel drive vehicle - meaning that it's perfect for Milwaukee's rough winters.
Luxury Options
Going "green" doesn't mean you need to give up the luxury amenities you love. The Highlander Hybrid Limited is available with Bluetooth Hands free, sunroof, heated leather seats, DVD, navigation, smart key and more!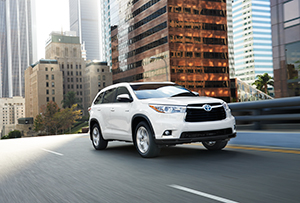 2014 Camry Hybrid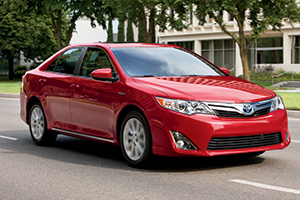 2014 Camry Hybrid Better Fuel Economy, More Power, More Space!
Rated 43 MPG City, 39 MPG Highway, 41 MPG Overall! With rising gas prices, you'll love the improved fuel economy.
More Power! Larger, 2.5L engine - 2012 Camry Hybrid does 0 to 60 in 7.6 seconds - even better than the 4 cylinder gas Camry.
New Electric Vehicle Driving Mode! You can drive solely off of electricity for short distances at low speeds.
More trunk space! 2.1 more cubic feet of trunk space.
2014 Rav4 EV
2014 Rav4 Ev: All electric. All SUV.
EPA-rated driving range of 103 miles
Impressive dynamic performance: 0-60 mph acceleration in 7.0 seconds in Sport Mode
Size/utility of a small SUV with 36.4 cu.ft. of cargo capacity
Since it uses zero gas, RAV4 EV is certified as a Zero Emission Vehicle (ZEV). With no internal combustion engine of any kind, it doesn't emit any tailpipe pollution.
The best impact on the environment is one that is as small as possible.
That's why we're not just building great cars like RAV4 EV; we're investing in our future with everything from innovative fuel technologies to a drive for zero waste in our manufacturing plants.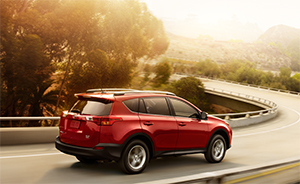 Questions?
Our friendly staff is available to answer any questions you may have.